TWELVE AND A HALF ACRES
Regular price
$75.00 AUD
Sale price
$75.00 AUD
Unit price
per
Sale
Sold out
Tasting Journey

Our Citrus and Spice Gin is a blend that marries the vibrant zest of citrus fruits with a tantalizing array of spices and a touch of floral elegance. This gin delivers a fusion of flavours that complement each other, evoking imagery of the sun-soaked shores of the Indonesian spice islands.

At the heart of our Citrus and Spice Gin is a lively combination of orange and lemon peel. These citrus botanicals infuse the spirit with a burst of tangy brightness, creating a refreshing and invigorating foundation for the flavour profile. The zesty notes dance on the palate, invoking a sense of sunny citrus groves with every sip.

To elevate the complexity, we have carefully selected a blend of spices, including cinnamon, nutmeg, coriander, and cardamom. Together, they impart a warm and aromatic embrace. These spices add depth and a subtle hint of exotic allure, ensuring that each sip is a delight to the taste buds.

But we didn't stop there. To add a touch of floral complexity, we incorporated the delicate essence of lavender and rose petals. These botanicals contribute a soft and elegant floral note that intertwines beautifully with the citrus and spices, creating a complex gin that exudes a refined balance.

Our Citrus and Spice Gin is a celebration of the senses, a symphony of citrus, spices, and floral grace. It makes an excellent G&T and would complement any cocktail. With each sip, you'll discover a new layer of complexity, an invitation to indulge in the artistry of the craft.

Cheers to the connoisseurs of fine spirits – this gin was crafted just for you.
Gin Profile

Ingredients: Juniper, Coriander, Cinnamon, Orris root, Liquorice root, Rose petals, Lavender, Orange peel, Lemon peel, Nutmeg, Cardamom, Cranberries, Tasmanian pepper berry.

Distillation: Column distilled using a 96% ABV premium grape-based neutral spirit – chill filtered.

Alcohol Content: 40% ABV

Bottle Size: 700ml

Allergen Information: Gluten Free

Distillery Location: Twelve and a Half Acres
Serving and Tasting Guide

Tasting Notes: A complex gin that blends citrus, spice, and a hint of floral notes to create a smooth, delicious, and fresh gin. It makes an outstanding G&T.

Serving Suggestions: Best enjoyed as a Gin & Tonic.
Commitment to Sustainability

Our commitment to crafting exceptional gin matches our dedication to sustainability. Our distillation process employs solar electricity, demonstrating our pledge to renewable energy. We also use filtered rainwater, further reducing our ecological footprint.
Shipping Information

Once your order is processed at Twelve and a Half Acres Distillery, we dispatch your items within 3-5 business days. Standard shipping takes 1-7 days and express takes 1-3 days from the time of dispatch. Delivery to regional areas may take longer. We also offer local deliveries for selected areas, which will be indicated at checkout if your address qualifies.
Share
Australia-Wide Delivery

100% Australian Made

Perfect for Presents
View full details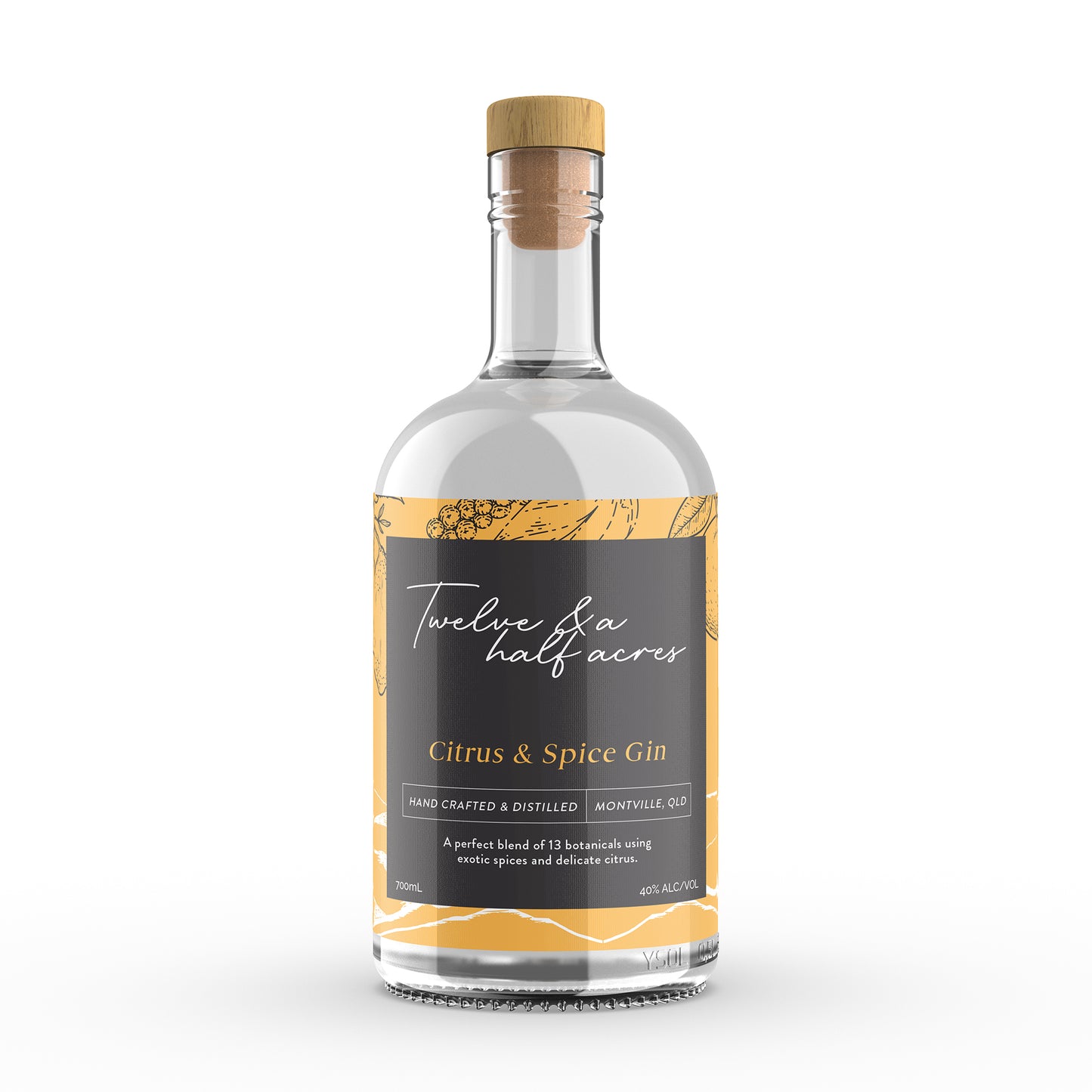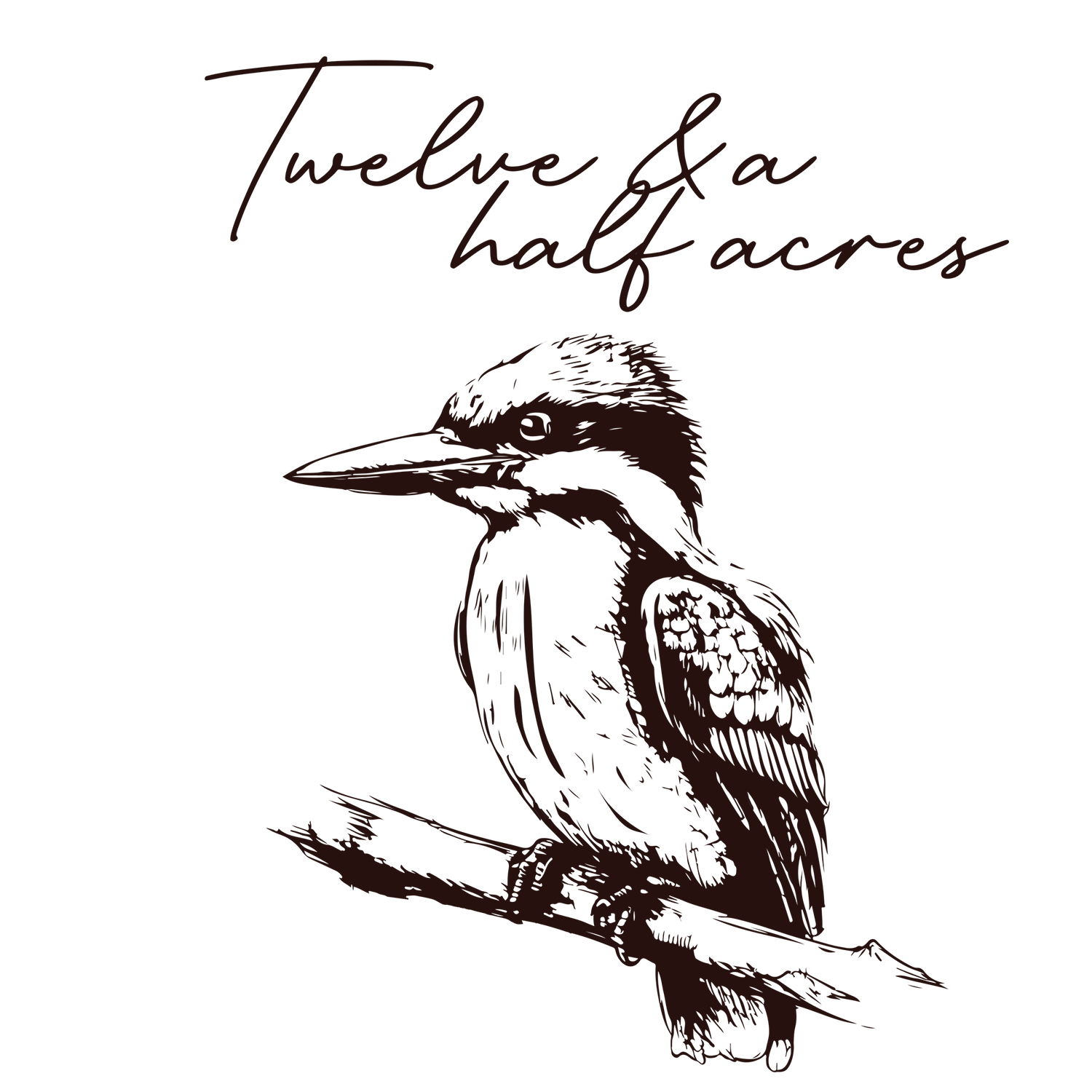 Why Choose Twelve and a Half Acres Gin?
Twelve and a Half Acres Gin captures the spirit of Queensland - wild, beautiful, and unapologetically authentic. Our Australian-made gin is crafted from natural botanicals using traditional methods, each bottle echoing the rich landscapes of our home. Quality is our creed with nothing added after distillation other than filter rainwater – true to London Dry Gin regulations. Through meticulous distillation, we ensure a superbly smooth and naturally flavourful gin that stands tall among the world's best. Enjoy it neat, mix it into a cocktail, or gift it - our gin is as versatile as it's memorable. Plus, we deliver across Australia, bringing our unique Queensland taste right to your doorstep. Choose Twelve and a Half Acres for an unmistakably Aussie gin experience.
Frequently Asked Questions
What is unique about your gins?

At Twelve and a Half Acres we hold true to the London Dry process for our Gins. We use premium grape based neutral spirit from South Australia. Only natural, and mainly organic, botanicals are added to flavour and sweeten the gin during the distillation process. Only pure filtered rainwater is added post distillation and no sweetener, or any additive is added. Read our blog about London Dry gin to learn more about the process we use and standards we adhere to.
What cocktails can I make with your gins?

We truly think the amount of cocktails you can make with our gin is only limited to your imagination and creativity.
What makes your gin different from others on the market?

What sets this gin apart from others on the market is its adherence to tradition. It's crafted using traditional methods and the finest natural ingredients available, including a premium grape-based spirit. This choice results in a clean, soft mouthfeel, which distinguishes it from gins made with grain-based spirits - think whisky. The gin does not contain any additional colouring, sweeteners, or flavourings, ensuring authenticity. It isn't modified post-distillation; it remains true to the London Dry process, embodying the pure product that emerges from the still.
How do you ensure the quality of your gins?

Firstly, we chose the finest ingredients – that's essential. How can you produce high-end quality spirit using cheap inferior ingredients – the simple answer is you can't. When distilling I make sure that only the premium flavours are collected during what is called the cuts of the distillation process. This ensures that the harsh flavours of the initial alcohol vapours to distil are not included in any of the Twelve and a Half Acre gins – in industry terms I cut deep making sure that only the spirit that makes the best drink is collected. From a process perspective we also use top industry standard equipment and have had my spirit professionally laboratory tested to absolutely confirm you are drinking the best possible spirit.
Do you provide delivery services for your products?

Yes, we offer various delivery options for our products. Firstly, we provide a free local delivery service for purchases made within a 15km radius of Montville, with deliveries taking place every Friday. Secondly, we cater to online orders across Australia via Australia Post, with either standard or express delivery options available. The associated delivery charges will be calculated and displayed at checkout when you purchase the products online. Additionally, we offer free delivery for orders with a value of over $150.
Are your gins suitable for vegetarians and vegans?

All our gins are gluten free – a fact laboratory tested. Suitable for vegetarians and gluten free, but not alcohol free. You're welcome!
How can I stay updated about new releases and events?

We can keep you updated by subscribing to our e-mail list on the website.