TWELVE AND A HALF ACRES
Regular price
Sale price
$85.00 AUD
Unit price
per
Sale
Sold out
Tasting Journey

Introducing our Christmas Gin, a carefully handcrafted spirit that captures the essence of Christmas using traditional gin-making methods. With over 20 ingredients this is a complex gin that tastes like Christmas - think Christmas pudding, fruit cake and 45% ABV gin bottled together...lovely!

The Christmas Gin starts with a lemon myrtle base, rich with citrus notes and Australian lemon myrtle. It still has the same amount of juniper as all the other gins - but the addition of a multitude of spices including nutmeg, cinnamon, cloves, and ginger - then combined with rich Christmas fruits of figs, dates, sultanas, raisins, cherries - with a hint of the exotic with Brazilian jaboticaba fruit. It is Christmas in a glass for sure. Best served on the rocks.
Gin Profile

Ingredients: Juniper, Coriander, Cinnamon, Lemon peel, Orange peel, Orris root, Dried Cranberries, Liquorice root, Tasmanian Pepper berry, Cardamom, Nutmeg, Cloves, Dates, Figs, Jaboticaba, Sultanas, Macadamia, Rasins, Cherries.

Distillation: We use traditional column still distillation with a neutral grape-based spirit at 96% ABV, watered down with rainwater for the distillation process. It's chill filtered before being left to settle for two weeks prior to bottling.

Alcohol Content: 45%ABV

Bottle Size: 700ml

Allergen Information: Gluten Free

Distillery Location: Twelve and a Half Acres
Serving and Tasting Guide

Tasting Notes: Smooth rich fruit and spice - the essence of Christmas.

Serving Suggestions: Neat or with a splash of soda.
Commitment to Sustainability

Our commitment to crafting exceptional gin matches our dedication to sustainability. Our distillation process employs solar electricity, demonstrating our pledge to renewable energy. We also use filtered rainwater, further reducing our ecological footprint.
Shipping Information

We use Australia Post for most of our deliveries. You can expect your parcel within 3-8 business days from the time it leaves our warehouse.
Share
Australia-Wide Delivery

100% Australian Made

Perfect for Presents
View full details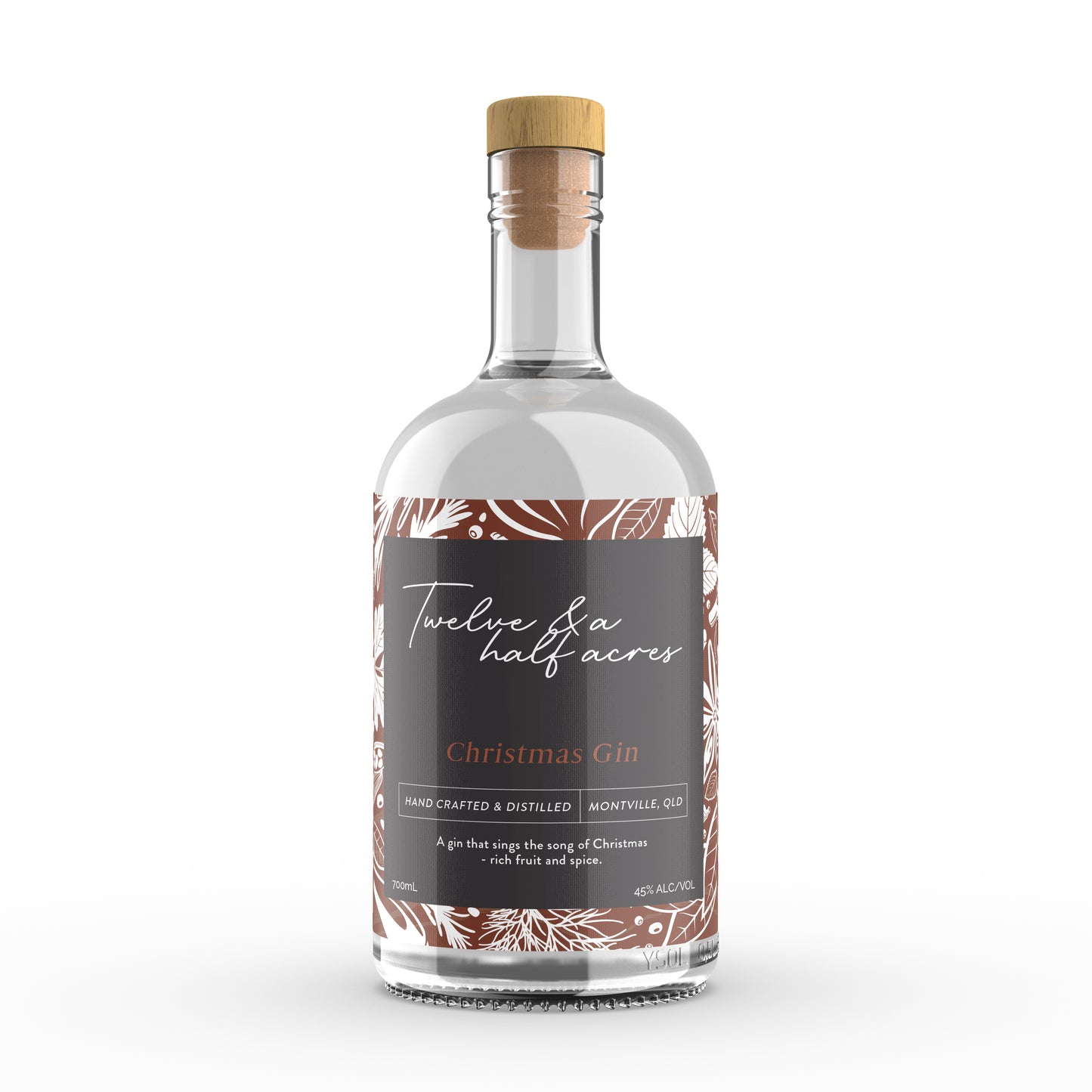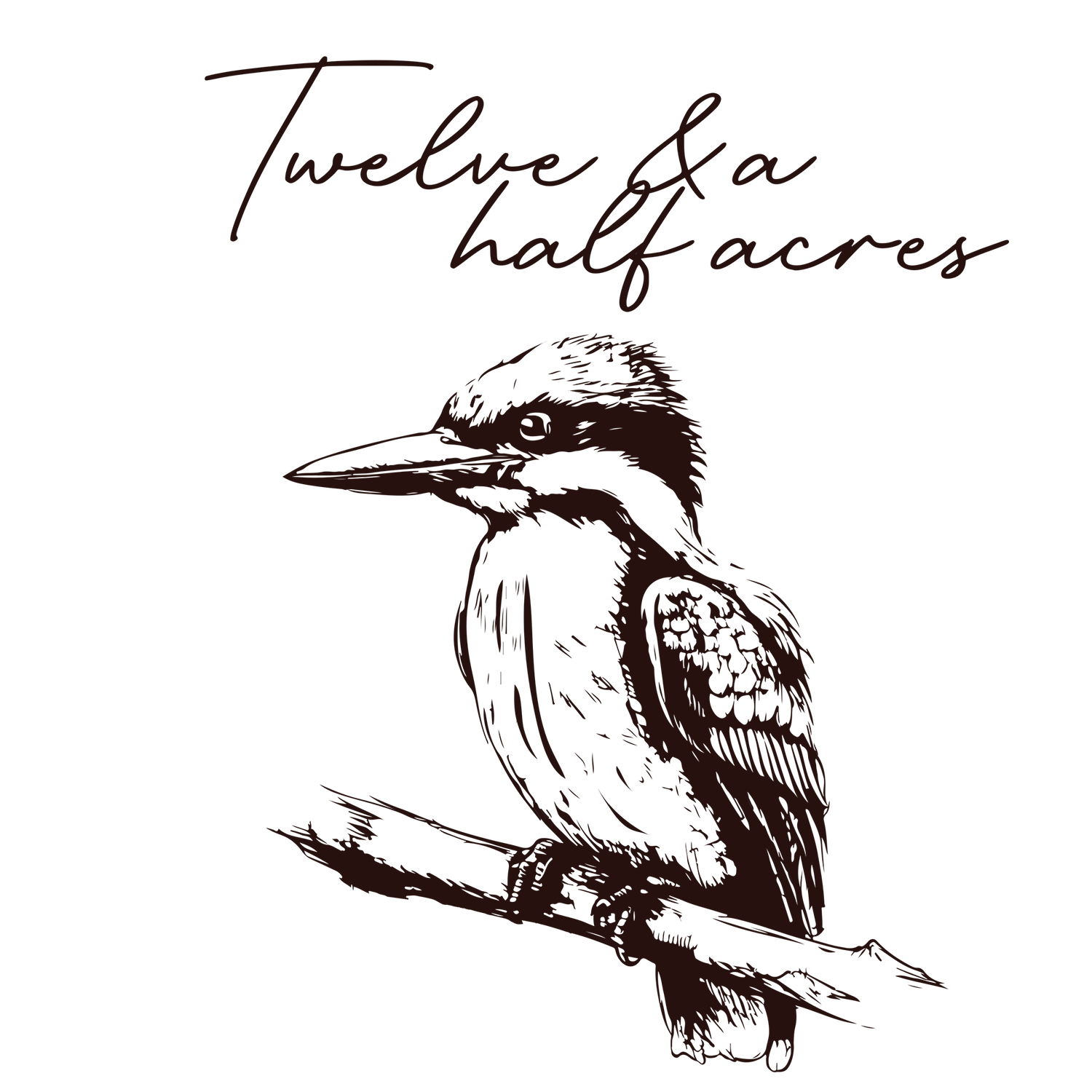 Why Choose Twelve and a Half Acres Gin?
Twelve and a Half Acres Gin captures the spirit of Queensland - wild, beautiful, and unapologetically authentic. Our Australian-made gin is crafted from local botanicals, each bottle echoing the rich landscapes of our home. Quality is our creed. Through meticulous distillation, we ensure a superbly smooth and flavorful gin that stands tall among the world's best. Enjoy it neat, mix it into a cocktail, or gift it - our gin is as versatile as it's memorable. Plus, we deliver across Australia, bringing our unique Queensland taste right to your doorstep. Choose Twelve and a Half Acres for an unmistakably Aussie gin experience.
Frequently Asked Questions
What is unique about your gins?

Each of our gins is carefully crafted with a unique blend of botanicals to create distinct and exciting flavor profiles. From the refreshing zest of our Lemon Myrtle Gin to the complex fusion of citrus and spices in our Citrus and Spice Gin, each product offers a unique sensory experience.
What are the key ingredients in your gins?

Our gins are distilled with a selection of key ingredients including juniper, coriander, cinnamon, various citrus peels, and a range of other botanicals such as liquorice root, Tasmanian pepper berry, and cardamom. Each gin has its own unique blend of botanicals to create its distinct flavor profile.
How are your gins best served?

Our gins are versatile and can be enjoyed in various ways. They are great for sipping on the rocks, enhancing a gin & tonic, or as the base for a creative cocktail.
How do you ensure the quality of your gins?

We take great pride in the quality of our gins. We meticulously select our botanicals and use a premium grape-based neutral spirit as the base for our gins. Our gins are column-distilled and chill filtered to ensure purity and taste.
Do you offer delivery?

Yes, we offer delivery for our products. Please refer to our Shipping Information for details.